How to use EPG Grid on

IviewHD

IPTV
The default TV Guide format for the IviewHD App is Normal EPG. Follow these steps to switch to a Grid EPG for your IPTV subscription.
1. Open the

IviewHD

App.

2. At the bottom of the home screen, you will see four options: Settings, Drect-to-TV, Grid EPG, and Classic EPG.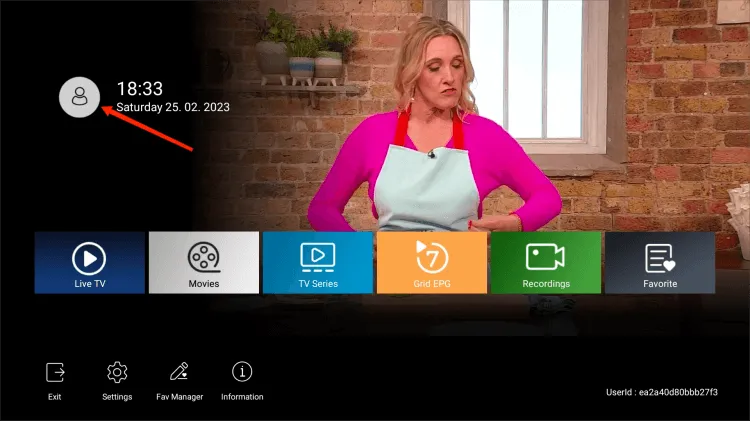 3. Select Grid EPG.

4. Go to the live channel, click OK and you will see that TV Guide has switched to Grid EPG.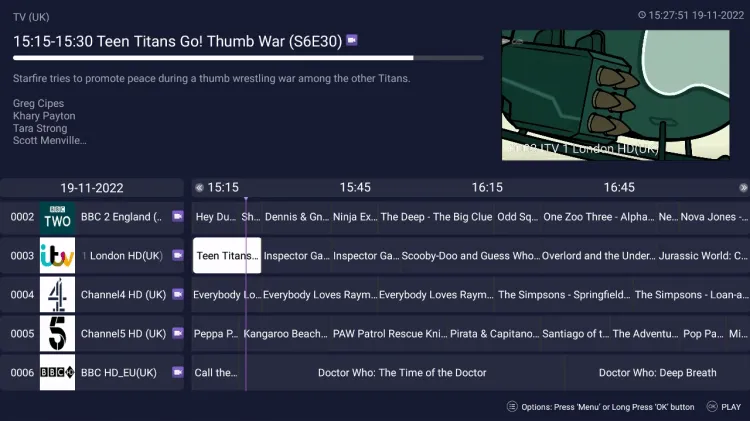 You can also click Settings – Misc. – EPG mode in step 3, then right-click remote and select Grid EPG. When you're done, wait a moment and the TV Guide will switch to the Grid EPG.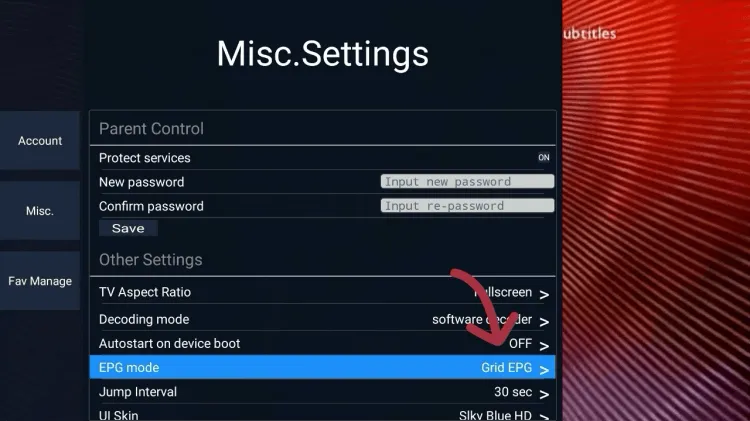 Why does my IPTV subscription not have a Grid EPG?
The IviewHD App offers different features as you subscribe to different IPTV packages and install and use them on different devices. See the table below for details.
Grid EPG

Classic EPG

Normal EPG

IviewHD

App (STB Version)

×

√

√

IviewHD

App (PAD Version)

×

×

√

IviewHD

Plus App (STB Version)

√

√

√

IviewHD

Plus App (PAD Version)

×

×

√

Sub-Device App (STB Version)

√

√

√

Sub-Device App (PAD Version)

×

×

√
Related Reading:
2. Which IPTV provider can use IPTV with Catch up [2023]
What are the benefits of using Grid EPGs?
When watching IPTV live TV, Grid EPG can not only provide a visual schedule of TV programs. but also make it more convenient for users to understand the broadcast time and content of TV programs. There are several advantages to using it.
Put program information, convenient to choose the program you want to watch.
1. Find shows: Grid EPG provides a search function so that users can find the shows they want to watch based on keywords. avoiding the hassle of browsing every channel.

2. Timed recording of programs: Grid EPG can help users set recording time so that users do not have to wait in front of the TV for the programs they want to watch. but can record in advance for users to watch at any time.

3. Program recommendation: Grid EPG can recommend relevant programs according to users' viewing history and preferences to help users discover new programs.

4. Improve user experience: The use of Grid EPG makes it easier for users to find the programs they want to watch. avoids the inconvenience of frequent channel switching, and improves users' viewing experience.
FAQ
1. What is a Grid EPG and how does it work?
A Grid Electronic Program Guide (EPG) is an on-screen guide that provides information about the schedule of television programs, movies, or other video content. The EPG displays the program schedule in a grid format, with each row representing a specific time slot and each column representing a particular channel. This allows users to easily browse the schedule and find the programming they want to watch.
To use a Grid EPG, viewers typically access the guide through their TV or set-top box. The EPG can be navigated using a remote control or another input device, and users can select a program to learn more about it or tune directly to that channel. Some Grid EPGs also allow users to search for programs by title, genre, or other criteria and may include additional information such as descriptions, ratings, and reviews. The information in a Grid EPG is typically updated regularly by the TV provider, ensuring that the guide always displays the most up-to-date schedule information.
2. How is a Grid EPG different from other types of EPGs?
A Grid EPG is different from other types of Electronic Program Guides (EPGs) in a number of ways, including the format in which the program schedule is displayed and the level of detail provided about each program.
1. Format: The defining feature of a Grid EPG is its grid format, in which each row represents a specific time slot and each column represents a particular channel. Other types of EPGs may use a list format, a calendar view, or another layout, but the grid format of a Grid EPG is designed to be easy to navigate and quickly provide an overview of the program schedule.

2. Level of Detail: While Grid EPGs may display basic information about each program, such as the title and start time, other types of EPGs may provide additional details such as descriptions, cast and crew information, ratings, and reviews.
3. Personalization: Some EPGs, such as those that use artificial intelligence or machine learning, can be personalized to a user's viewing habits and preferences. This allows the EPG to highlight programs that the viewer is likely to be interested in. Grid EPGs, on the other hand, typically do not have this level of personalization.

4. Integration with Other Services: Some EPGs can integrate with other services, such as streaming services or home automation systems, providing a more comprehensive and convenient viewing experience. Grid EPGs may not have this level of integration.

5. Search Functionality: Some EPGs have robust search functionality, making it easy for users to find specific programs or genres. Grid EPGs may have limited search capabilities.
In conclusion, while a Grid EPG provides a simple and straightforward way to view the schedule of television programs, other types of EPGs may offer additional features and benefits, depending on the needs and preferences of the viewer.
How do I access a Grid EPG on my TV or set-top box?
Accessing a Grid Electronic Program Guide (EPG) on your TV or set-top box will depend on the specific device you are using. Here are some common steps to access a Grid EPG:
1. Subscription IviewHD IPTV.
2. Install IviewHD App or IviewHD Plus App.
3. Open the App, Select Grid EPG at the bottom of the home screen to access it on your Android TV box.