IPTV has now become an indispensable part of our lives. As the CONCEPT of IPTV expands, so does the list of devices you can use to watch IPTV content. Here's how to install IviewHD IPTV on your Android device.
What can we watch with IPTV?
By subscribing to IPTV, you can watch VOD video on demand and your favorite live channels as well as various sports events. And there are plenty of IPTV providers to snap up. IPTV provider subscriptions are more affordable than cable subscriptions. So if you want to watch IPTV content on your Android device, follow these guidelines.
How to download IviewHD APP?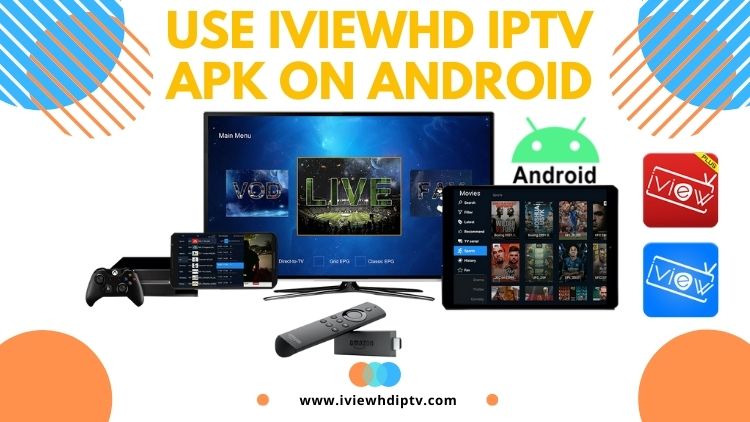 Download below, the version according to the program you wish and then install on your device. Phone and tablet versions can be downloaded directly on the device.
When you install for the first time on your device, you must go to the device Settings and enable – Allow installation from unknown sources.
Choose the plan for the period you wish. There are plans for a month, 3 months. 6 months and yearly. There is also a trial version available.
After you purchase, you will have your activation code sent on your email.
Step 3 - Activate iviewHD IPTV Code
After the installation you open the application and choose a movie or a channel. You will be asked to put the code. Put the activation code and submit. You are ready.
If you are new to IPTV, please read on and I will show you step-by-step how to install and use the iViewHD app on your Android device
Or watch this tutorial video on how to install iviewHD IPTV on Android TV Box.
With Android Box, Android Phone, Android Tablet or Android TV, you can simply install iview APK and use this IPTV service. APK files are the raw files of an Android app similar to how .exe is for Windows.
The APK means Android Package Kit (APK for short). It is the package file format used by the Android operating system for the distribution and installation of mobile apps. In 4 Simple Steps, I will show you how to use iview IPTV apk on your Android device once you are done downloading it.
How to use iview IPTV on all Android device?
Step 1: Download the iview IPTV apk on your device
You can download the corresponding version of APK directly from the IView IPTV website. If you download the apk on a computer, make sure to move it to your android device.
Please download and install the correct IPTV Apk version to your device from the link: https://www.buyiviewhdiptv.com/download.html (Need to log in to)
1. iview IPTV APK/APP (STB version) use for Android TV Box, Android TV Stick, Android Smart TV
2. iview IPTV APK/APP (PAD Version) use for For Android PAD&Phone
3. iViewHD code with Blue color Apk,
4. iView Plus code with Red color Apk.
Please input the activation code in your Apk to open the channels.
No test code yet? IView IPTV offers a 3-day free trial service, click here to get a quick IPTV test
Step 2: Allow Third-Party apps on your device.
To install the iview IPTV apk, you must make sure that third-party apps are currently enabled as an installation source.
Just Go to Menu > Settings > Security > and check Unknown Sources to allow your phone to install apps from sources other than the Google Play Store.
On Android 10.0 Oreo, rather than check a global setting to allow installation from unknown sources, you will be prompted to allow your browser or file manager to install APKs the first time you attempt to do so.
Step 3: Goto Your File manager or browser location
You will now need to locate the iview IPTV apk file you just downloaded.
Once you have located the iview IPTV apk file, click it and it will start the normal installation process. Tap "Yes" when prompted for anything. However, be sure to read all on-screen prompts.
Step 4: Enjoy
Iview IPTV is now installed on your device. If you have purchased an IView IPTV Code, After the installation you open the application and choose a movie or a channel. You will be asked to put the code. Put the activation code and submit.
Are APK Files Safe?
Disregard any rumors or a site that says otherwise. APK files are generally as safe as a .exe windows pc file hence, the most important thing to note is that you should always download it from trusted sites. You generally do not have anything to worry about as we have provided some of the safest sites in our Apk download mirrors below.