What is the EPG TV Guide?
Electronic Program Guide (EPG) and Interactive Program Guide (IPG) are menu-based systems that provide users of TELEVISION, radio.and other media applications with updated menus that display scheduling information for current and upcoming broadcast programs (most television schedules). You can usually find the EPG by pressing a specific guide button on your TV/set-top box remote control.
What is the EPG category?
1. You have an interactive EPG with many channels and features such as navigation, parental controls, and DVR recording.
2. Multi-channel EPG, which means that EPG displays many channels.
3. Single-channel EPG only displays programs from a particular channel.
What are the advantages of EPG?
In IPTV service, EPG plays an important role. Besides to allowing you to watch current and upcoming programs, it also allows you to switch channels. The most important thing is that you can enjoy the IPTV service of DVR.
What are the functions of EPG?
1.Grid GUI or graphical user interface.
2.A list of the available channels, along with airing schedules for all their programs.
5.Genre organized channels.
How to switch EPG styles on iviewHD IPTV
IviewHD IPTV have three kinds of EPG(TV Guide) styles: Grid EPG, Classic EPG, Normal EPG. You can choose according to your own style of use, the system defaults to normal EPG.
Below, I've created a video tutorial and screenshot Guide on how to switch from EPG style to your favorite TV Guide.
I highly recommend watching the video below, which details how to switch EPG styles on iviewHD IPTV

Screenshot guidelines
There have two ways to switch EPG style.
Method 1: You can choose the EPG style you want on the iviewHD home screen.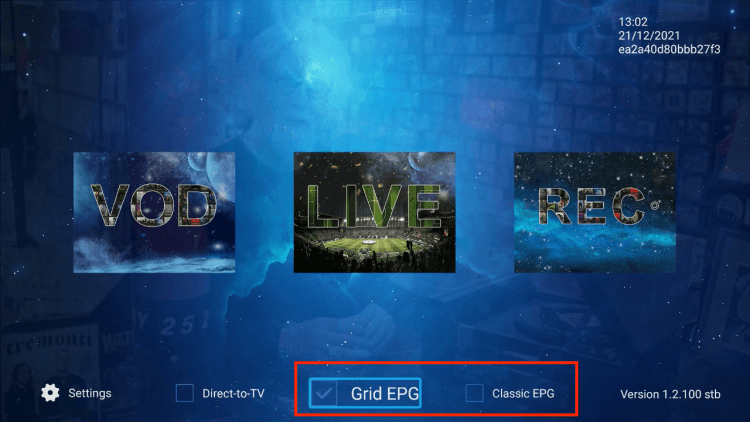 Method 2: Or you can go to the Settings-Misc, scroll down on "EPG mode" options, press the right buttons on the Remote to switch EPG style.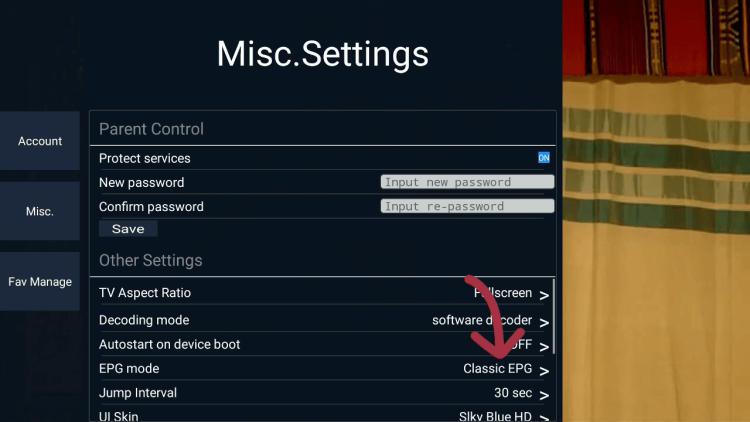 About iviewHD EPG
Different versions of subscriptions have different EPG styles.
Only standard (STB version) and Plus version (STB version) comes with the classic EPG.
1. Install standard STB version(blue) and Plus STB Version(red) on Android TV Box and Android Smart TV to get Classic EPG.
2. If you have the plus PAD version (red) installed on your PAD or phone, there is no classic EPG.
3. If you have the standard PAD version (blue), there's no classic EPG either.
You can find it in the below chart.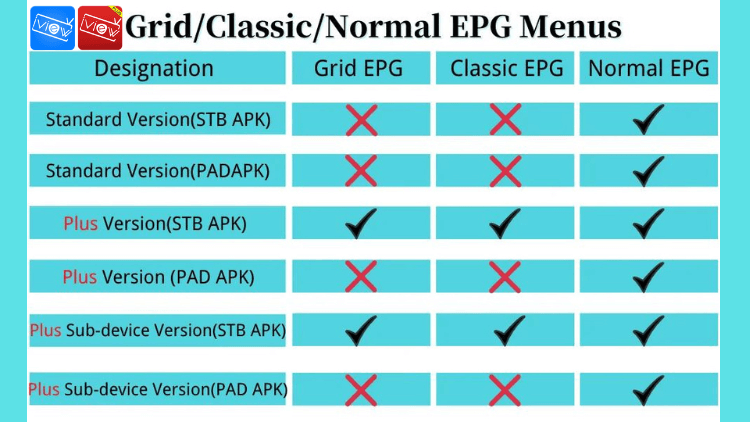 conclusion
From the above guidelines, you have learned how to switch the EPG guidelines on IviewHD IPTV. Without the EPG guide feature, it's hard to keep track of live channels on your TV. By subscribing to our IviewHD IPTV. Not only can you get the best quality and stable IPTV service, you can also get our IPTV free trial. IviewHD IPTV offers a 3-day free trial. Subscribe to our service to watch the best channels from IPTV UK, Australia and Europe as well as your favourite shows and sporting events.
Frequently Asked Questions
How do I add EPG to IPTV?
Most IPTV Services have the ability to add EPG directly from the main menu.
What is an EPG?
EPG is an Electronic Program Guide used for live television services.
Is EPG the same as TV Guide?
Yes, EPG is essentially a TV Guide used for IPTV Services and online-based streaming platforms.
Is EPG Free?
Most IPTV Services provide an EPG for free when you purchase a membership.
Related articles